I'm so excited so see the second book in my mermaid trilogy published at last. I'm working on the paperback version now and it should be ready some time over the weekend.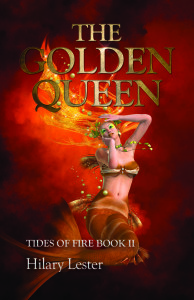 Twenty tides have passed since Leelee and her lover Makhulu parted. The tyrant Vahtu is dead, and his wayward son Kahlutu sits on the throne in his place. Leelee has been forced to return to the clear, warm reefs of the City to become her Clan's reluctant High Priestess, while Makhulu remains in the forbidding waters of the Kiakhu Clan to advise and support the new King.
Now, when the fragile peace between the Clans is threatened on all sides, a catastrophe strikes the Clanfolk that makes all their differences irrelevant and introduces Leelee and Makhulu to a new adversary—The Golden Queen.
Amazon.com: The Golden Queen: Tides of Fire: Book II

Amazon.co.uk: The Golden Queen: Tides of Fire: Book II

Amazon.de: The Golden Queen: Tides of Fire: Book II (English Edition)