I'm very happy to announce that Death Where Is Thy Sting? the first of my new Regency Mystery series Lady Cavendish Investigates is up on Amazon to buy or borrow for Amazon Prime readers.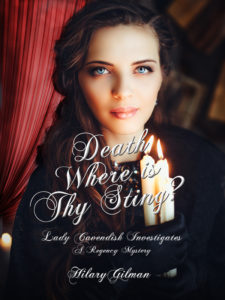 Here's the blurb:
"Lady Cavendish Investigates" is a new series of Regency mysteries continuing the adventures of Cecily and Dominic Cavendish ("The Captured Heart").
Cecily and Dominic have been married for two years, the war with France is over, and Napoleon has been safely exiled to Saint Helena. Dominic now works for 'the Minister' in a secret government department, while Cecily is ripe for something exciting to do — such as investigating the strange occurrences at Coningsby Park.
Cecily's old school friend, Isabella Rose, has married the Earl of Guisborough, whose first wife died in tragic circumstances.  Now, Isabella believes that the ghost of the first Lady Guisborough will not rest until the young bride is out of the way, or better yet — dead.
Amazon.com: Death Where Is Thy Sting?: A Regency Mystery (Lady Cavendish Investigates Book 1)

Amazon.uk: Death Where Is Thy Sting?: A Regency Mystery (Lady Cavendish Investigates Book 1)

Amazon.de: Death Where Is Thy Sting?: A Regency Mystery (Lady Cavendish Investigates Book 1) (English Edition)