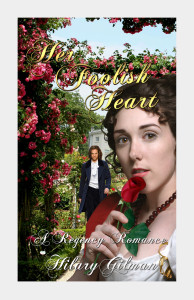 Now that Hearts Beguiled, the final book in the Loving Hearts series is ready to be published (March 5), I am offering a previous book in the series free for 5 days. So, beginning February 28 through March 4, the e-book Her Foolish Heart can be downloaded, and  I hope, enjoyed free of charge.
****
Her Foolish Heart is the story of a growing love between two delightful people who are made for each other, although only one of them knows it.
It has been seven long and empty years since Marianne's dream of love was snuffed out by a French bullet at the siege of Badajoz. Her bloom has faded and now she is a mere drudge at the beck and call of her selfish stepmother and unfeeling sister. Then she meets Lord Marchmount, a man so like her dead lover in appearance that the heart she thought buried in the grave revives with new life and hope.
But Beau Laurier, Arbiter of Fashion and leader of the Ton, wants Marianne for himself and is determined to thwart her blossoming romance.