We are back home in our little village after a rather fraught two weeks. I've been itching to work on Milady's Masquerade, but there was just too much going on. However, I did get the cover confirmed – isn't she gorgeous?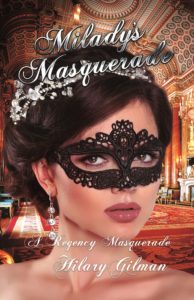 There are two dashing heroes and two independent-minded heroines. Lord 'Matt' Matlock woos Lady Elizabeth under the impression that she is the Grand Duchess of Catamanthia while Colonel Julius Paige wrestles with his feelings for a woman he believes to be out of his reach. Of course neither of them stands a chance of escaping the happy ending – my heroines don't wait to be asked.
The book goes for editing next week and, finger's crossed, should be out by the end of the month.