My mother always made her own bread and my grandmother supported the family throughout the depression, when my darling granddad couldn't get a job, by baking bread for the neighbours. She was famous too for her pastry which was, so my mother said, light as a feather. Mine always came out tough and leathery until I started cheating and making the dough in the food processor. Mum said it was because my hands were too warm. Good pastry requires icy hands.
Since I gave up the day job and moved to Bavaria I have begun to experiment with baking my own bread. In a region famous for its amazing range of delicious breads this might appear to be a superfluous activity but I find it very soothing and the smell of baking bread gives me a sense of continuity with my mother, my grandmother and all the great, great grandmothers who baked their bread and raised their families in their two-up-two-down mill-cottages amidst the grime and smoke of Manchester in the Industrial Revolution.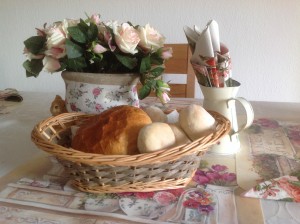 I use a basic bread recipe that I found on realbreadcampaign, just strong bread flour, fresh yeast, salt and water. As an enthusiastic advocate of the less sugar, more fat regime I was pleased that the bakers on this site recommend you omit the sugar saying "the yeast will convert starch in the flour to sugars to feed on."
As with all recipes, careful weighing and use of the best ingredients seems to be the key to success. The only adjustment I have to make is to baking times as my oven is unreliable.
The bread is done when you knock it on the bottom with your knuckle and it sounds hollow. A most satisfying sound.