I'm loving the sales from my sales so now it's the turn of  Mysterious Masquerade which will be priced at 99 cents until August 8th.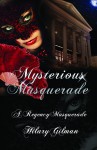 This one was a slight departure for me as the plot is more than just something to hang the romance on, there's an element of espionage and a hero, the Duke of Staynes, who is much more than a dandy. There are also more fight scenes, as you might expect. I do like to do my research so when I was getting ready to write the climactic fight I downloaded several famous film fights from YouTube and made notes. The most useful for my purposes was the one from the The Quiet Man between John Wayne and Victor McLaglen. You might recognise elements if you're a film fan.
My heroine, Angel, doesn't live up to her name either in the ballroom or the bedroom, but the Duke doesn't seem to mind.
There's a nice, romantic sub-plot, which one reviewer liked better than the main plot, and a few comic characters including a ditsy duchess, a soldier-of-fortune, and an Italian Macaroni.  All that for 99 cents – it's a bargain!