It's been a struggle to get the last Masquerade book published before Christmas but I managed it – now I've got 24 hours before the family arrive, to bake the mince-pies and wrap the presents. But it was worth it. I'm proud of this book. Two gorgeous heroines, two dashing heroes, two interlacing timelines (I had a chart but still got muddled), and some really delicious romance.
Although Catamanthia is my creation my readers will realize it owes much to Slovenia, and even more to Ruritania. Milady's Masquerade is an unashamed homage to one of my favourite books The Prisoner of Zenda, except of course that it has a happy-ever-after ending which Zenda doesn't. I'm working on the paperback and hope to have it available soon – after I've done the mince-pies.
Merry Christmas and Happy Holidays to all my readers.
*****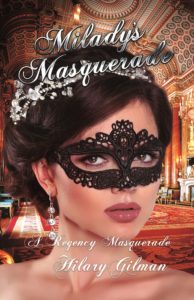 Lady Elizabeth Marlowe, a self-confessed bluestocking, is reluctant to exchange her quiet rural existence for the despised frivolities of the London Season. But when her cousin, the Grand Duchess of Catamanthia, is abducted, she is persuaded take her place at Princess Charlotte's wedding celebrations. In spite of herself she must also accept the attentions of Lord Matlock, the most attractive man in London, whose motives she strongly suspects.
Meanwhile, the Grand Duchess, finds refuge with Colonel Julius Paige, a cavalry officer, terribly injured at the Battle of Waterloo, who must recapture his passion for life if he is to help the woman he loves defeat her enemies.
Two dashing heroes—two willful heroines—and the fate of Europe in their hands.
Amazon.com: Milady's Masquerade

Amazon.uk: Milady's Masquerade

Amazon.de: Milady's Masquerade